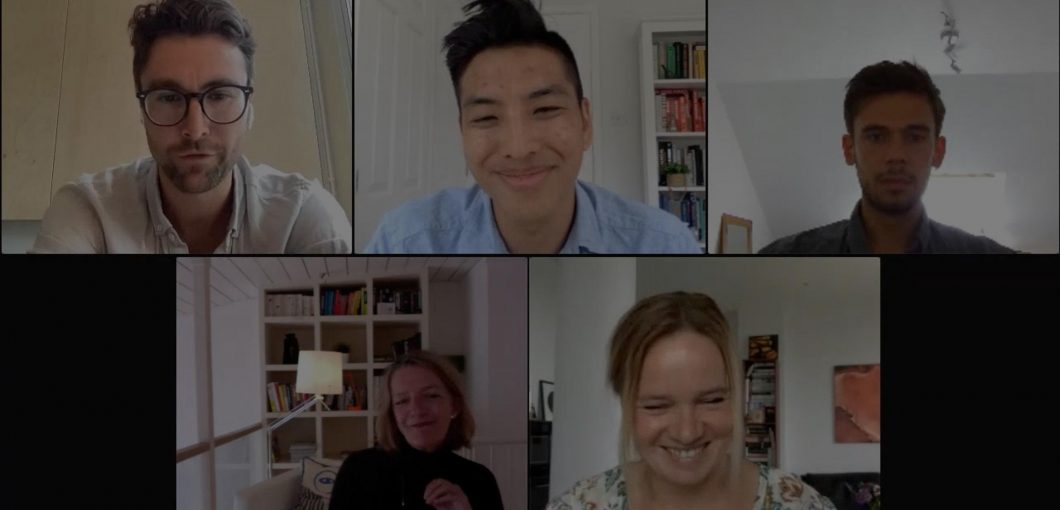 Panel Event Highlights – What are the industries of the future and how can the UK better equip students to play their part?
What are the industries of the future and how can the UK better equip students to play their part? 
If the vast majority of jobs that will exist in 2030 haven't been invented yet, how is the UK going to prepare young people today for the industries of tomorrow?
io.education convened a panel of experts from across education and industry to explore exactly that, in the first of our new series of panel discussions.
The panel featured:
Matt Nicol, Policy Designer at the Department for Education.
Marielle van der Meer, Executive Director of Student Experience, Career and Partnerships at the London Interdisciplinary School.
Robin Chu, Founder and CEO of CoachBright.
Estelle Shepherd, Chief People Officer at Remarkable Group.
Jack Sallabank, Future Places Studio.
Research suggests that 85% of the jobs that will exist in 2030 haven't been invented yet. Equipping today's students with the skills they need to play their part in these unknown industries is a fiendishly difficult challenge for the education system to crack.
The human skills that underpin success
A key area of focus for the UK, and possibly an easy win, needs to be on developing personal and inter-personal skills, particularly in the wake of the Covid pandemic, the panel argued. Conversations about critical skills shortages have gone on for decades – and the need for STEM is as acute as ever in the UK – but, as Estelle Shepherd said: "Where I see that most acutely is actually around human skills."
Confidence, accountability, complex problem solving and a desire to learn and work with others are all basic requirements for jobs today and in the future. But with schools having been disrupted for a year and a half, the UK has to make a concerted effort to catch students up on more than just academics.
Matt Nicol, Policy Designer at the DfE said: "The biggest gap that's been caused by the pandemic is those social interactions – being in a classroom with lots of other people, learning how to work in a team, learning how to articulate yourself in front of a group of others."
It's not a simple fix. As the panel argued, this has been an issue that predates the pandemic. Pressure on schools to perform has led them to focus heavily on measurable results, possibly turning some into "exam factories" at the expense of developing students' soft skills.
At the same time, private schools have historically been better at instilling those skills in their students than state schools, which has a knock-on effect on the UK's inequality. The most prestigious jobs are done by people who have generally taken a prescribed route involving private education and Oxbridge. "Unless we can tackle the challenge, we can never have access to the full array of talent that this country has to offer," Robin Chu proposed.
Alternative ways to teach
The London Interdisciplinary School, where Marielle van der Meer heads up Student Experience, Careers and Partnerships, tries to tackle some of these challenges. Launching in September, the university teaches students to solve complex problems connected to the real world through an interdisciplinary approach. Rather than learn a particular subject, students learn how to solve problems, regardless of what they might be.
The reason this approach is so attractive is because we don't know what the future holds. When asked how to prepare students for jobs we don't even know will exist, van der Meer said: "My answer is always deceivingly simple, and that's by not preparing them for a specific job but by equipping them with the tools and the skills they need to be successful – and to be versatile – in any of those jobs."
One concern Nicol raised, from the perspective of the DfE, is how to integrate some of these abstract ideas into education policy. For example, we know what STEM is. We can track investment into it and analyse what happens to STEM graduates when they leave university. But what about something like complex problem solving?
Measuring grades and teaching to exams have downsides, he said, but if there were a system where things weren't measured, how would we know whether there has been progress or how effective a particular approach is? That will be a key challenge for UK education in coming years.
Taking a joined-up approach
Overcoming these challenges and preparing for the future cannot be left to schools alone, the panel argued. What the UK will need is a collaborative approach that involves schools, universities, industry and charities.
"It's not really about anyone having a definitive answer on what's going to be the best job in 2030 and how do you get it, but [about] going on this journey together and more shared experience," Shepherd said.
Industry sponsorship should play a role in this, she said. Large organisations know that they will need skilled employees in 10 or 15 years, and, therefore, they should invest in young people's education and build visibility for their industries among the next generation. This will ensure that students and teachers will have a clearer idea of the opportunities out there as industries and jobs evolve.
Building visibility will also play a role in tackling inequality. Charities like CoachBright connect pupils from disadvantaged backgrounds with university students or young professionals who act as academic coaches. "What it does is it raises relatability and aspiration," CEO and Founder Robin Chu explained.
Young people are able to see, first-hand, a range of occupations they might not have considered, or they might meet someone who goes to university for the first time. Either way, that young person will have a better sense of potential opportunities. Someone who, at 15, decides they want to be a mechanic simply because their parents and grandparents had been mechanics might discover another passion – and learn how to achieve it themselves (on the other hand, they might come out of the experience and still want to be a mechanic, which is also good because it will be an informed decision, Chu said).
That kind of constant conversation – between educators, students, industries and mentors – coupled with the development of soft, human skills will play an important role in preparing the UK for an unknown future. But is the country on course to equip students with the skills they need? All the panellists said "yes", with the exception of Chu, who said: "Probably not, but I don't think we're as far behind as some people think."